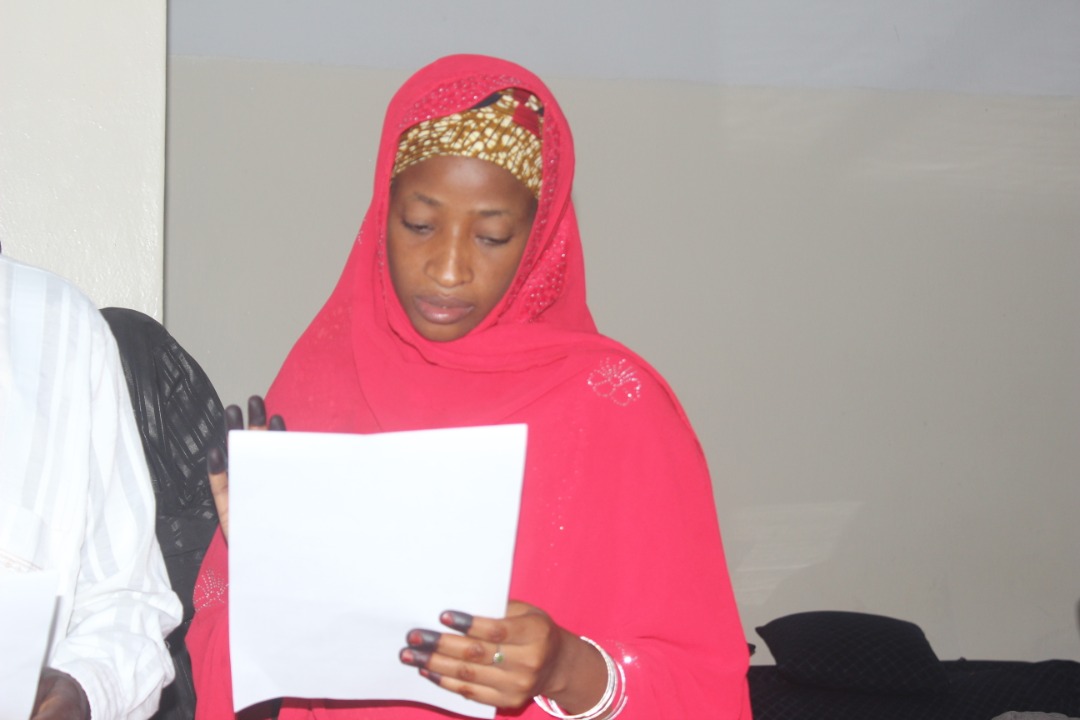 Aisha Muhammad Yanleman has been elected as the first woman
to lead a chapel of the Nigerian Union of Journalists in Freedom
Radio Kano.
The swearing in of the New Executives of the NUJ chapel was
presided over by Kano Council Chairman Malam Abbas Ibrahim at
the Conference hall of the station in Kano.
Those elected along Aisha Muhammad Yanleman are Abdullahi Isa
Vice chairman,Muzammil Ibrahim Yakasai , Secretary, Abdulkarim
Muhammad Abdulkarim aka Salman Khan , Assistant secretary.
The New Freedom Radio Chapel Excos being sworn-
In
Others are Shamsiyya Faruk Bello Treasurer,Adamu Suleiman
Muhammad , Financial Secretary,and Tijjani Adamu Auditor.
The New Freedom Radio chapel executives will steer the affairs of
the Union for the next three years.
Others who witnessed the swearing in are ,Malam Ado Saidu
Warawathe stations manager,Malam Usman Usman Manager
Special programmes, Engineer Ali Dala Head Engineering and
Nasiru Salisu Zango manager News.
accompanied Abbas Ibrahim for the swearing in are the state's
Council Assistant secretary Nura Shehu Bakin Ruwa.
The 34 year old Aisha Yanleman, the new Freedom Radio Chapel
chairman is a graduate of English from the famous Bayero
University Kano ,she also bagged a Professional Diploma in Mass
Communications from the same University.
She is currently a News Editor with Freedom Radio News Room
,she has almost Ten years experience in the Journalism
Profession.
While her Deputy Malam Abdullahi Isa ,a 40 year old is also a
graduate of the prestigious Bayero University Kano from the
Department of Mass Communications, he is also an ace sports
Journalist and a News Editor with Freedom Radio,he has to his
credit several articles published in re-known Newspapers including
the Nigerian Tracker.
While the new secretary of the Union Muzammil Ibrahim Yakasai is
also a graduate of Bayero University Kano and studied Mass
communications,he has to his credit many reports that shaped the
lives of the people.
While the Assistant Secretary of the Chapel Abdulkarim
Muhammad Abdulkarim is also another veteran Journalist who
also worked with DW in Germany.
Abdulkarim has to his credits reports over Freedom Radio popular
programme Indaranka, he is the first Journalist to air an assault on
KAROTA officials by its former Managing Director and that led
Kano State government to relieve the Managing Director from his
appointment.
The Treasurer Shamsiyya Farouk Bello is also another veteran that
has served the station for long period of time.
The Auditor Tijjani Adamu is also another veteran Journalist with
the station and has reporting issue that changes the lives of the
people and is a graduate of Northwest University in Kano.
Adamu Suleiman Muhammad who is also the Financial Secretary
of the Union is a graduate of Northwest University and has been
contributing to the upliftment of the station.
All the New executives are married with Children.