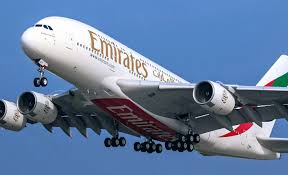 Following the resumption of international flights in
Lagos and Abuja airports from Saturday , investigations
by Sunday PUNCH have revealed that there will be about
15 , 000 passengers flying into the country weekly .
The Federal Government had after shifting the
resumption of international flights from August 29 to
September 5 noted that only the Nnamdi Azikiwe
International Airport , Abuja and the Murtala
Muhammed International Airport , Lagos would be
opened for operations.
The
Minister of Aviation , Hadi Sirika , also said 14
international airlines had been granted approval to
operate in the country while eight others were not
given approval , for different reasons .
Those given approval to commence flights include
British Airways , Middle East Airlines , Delta Airlines ,
Qatar Airways , Ethiopian Airlines , Egypt Air , Air
Senegal, Virgin Atlantic , Asky Airlines , Africa World
Airlines , Air Cote d ' Ivoire, Kenya Airways , Emirates
Airlines and Turkish Airlines .
Those not given approval to operate include Air
France , KLM Royal Dutch , Etihad Airways , Rwanda
Air , Air Namibia , Royal Air Maroc , Lufthansa and
TAAG Angola . It noted that South African Airways and
Cabo Verde had not been cleared because their
international flights had yet to resume .
Meanwhile , findings by Sunday PUNCH revealed that
about 15 , 000 passengers might be arriving in the
country weekly through the two airports .
The United Kingdom , the United States and China have
been identified as choice destinations for Nigerians .
Incidentally , they are countries with high number of
coronavirus cases .
A document from the Nigerian Civil Aviation Authority
to the airlines , a copy of which was obtained by one of
our correspondents, showed that there would be 88
flights to the two airports ; 47 flights into the Lagos
airport and 41 into Abuja airport weekly .
According to the document , signed by the Director –
General and Chief Executive Officer , NCAA , Captain
Musa Nuhu, each flight could only carry a maximum of
200 passengers , regardless of the fact that many of the
aircraft used by the foreign airlines have an average
capacity of about 300 passengers .